Addiliate is a performance based online marketing platform giving full control to advertisers and publishers, focusing on performance, transparency, targeted advertising and high volumes. If you are a Publisher and interested in monetizing your website and selecting your preferred campaigns or an Advertiser interested in taking full control of your advertising campaigns, this is how you get started.
1. Go to Sign up free. Fill in your e-mail address and a password.

2. A validation link will be sent to your e-mail address. If you have not received any e-mail, please check your Spam folder. Click on the link to confirm your e-mail address. 
3. Select Publisher or Advertiser.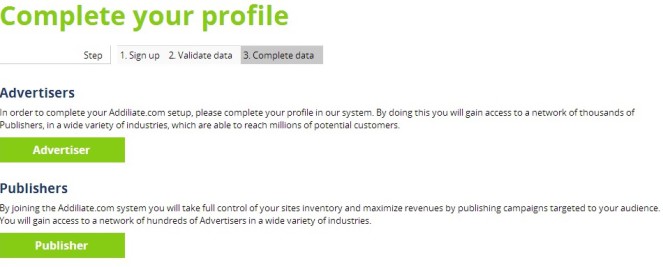 4. Fill out the necessary fields and Register. 
5. Your account must be approved by an administrator. Your account will be reviewed in one business day. Once your account is approved, you will receive a new e-mail. Now you can log in on Addiliate and access your account.
The first thing you see when you log in is your Dashboard. Here you will be able to see your sales per day and the contact details of your Account Manager. If you need help, you can always reach out to your account manager.