Before you can see any campaigns, it is necessary to add all your websites and create your Channels. A channel is a source of traffic, like an e-mail database or a website. Provide as much information as possible so that we can propose you campaigns that fit in with your website audience.
1. Go to My Account and select Channels. Click on Add Channel.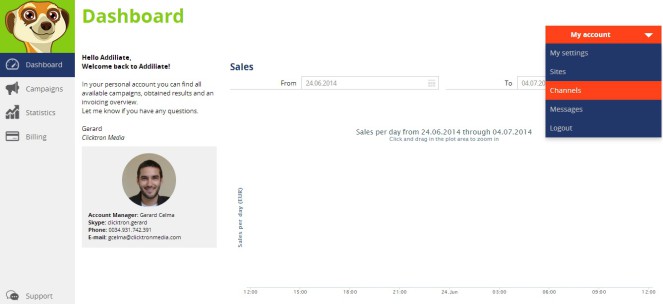 The first time you log in, you will see that "My account" is orange. When you click on "My account", the button for "Channel" turns orange too. First thing you do to complete your account is add all of your Channels!

2. Give your channel a name and select your website. Do you have several websites? Click here to see how you can add more sites.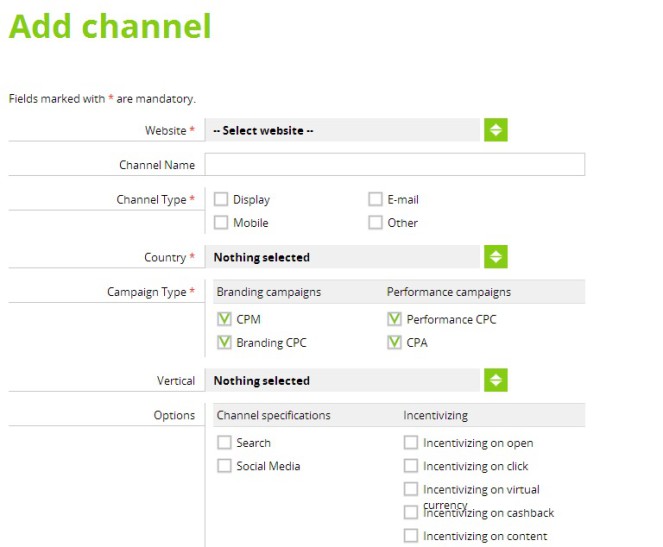 3. Select Channel Type.
Do you have space for banners on your website? Select Display.
Do you have an e-mail database? Select E-mail.
Do you have a mobile site? Select Mobile.
For all other traffic types please select Other.
4. Select Country. It is possible to select several countries if your visitors are not exclusively from one country.
5. Select Campaign Type. We offer both branding and performance campaign types. The more campaign types you indicate the more campaigns you will be able to do. Afterwards you can always choose your own campaigns.
Select Branding CPC if you accept CPC (Cost-per-Click) campaigns on your Premium traffic.
Select CPM if you accept CPM (Cost-per-Mille) campaigns.
Select CPA if you accept CPA (Cost-per-Action) campaigns. This can be CPL (lead), CPO/S (Order/Sale) or CPI/D (Install/Download).
Select Performance CPC if you accept CPC (Cost-per-Click) campaigns on your performance traffic.
6. Select the Verticals of your channel. This will help us to find the right advertiser for your site. It is possible to select several Verticals (ex. Sport and Travel).
7. Additional information about your Channel can be selected at Options.
Select Search if your traffic comes from search engines like Google, Yahoo and Bing.
Select Social Media  if your traffic comes from Facebook or other social media platforms.
Select Incentivizing on open if your traffic is incentivized to open e-mails.
Select Incentivizing on click if your traffic is incentivized to click on links.
Select Incentivizing on virtual currency if traffic receives virtual currency for specific actions.
Select Incentivizing on content unlocking if traffic is incentivized with content unlocking for specific actions.
8. Click on Save and continue these steps with all of your channels.
Once you´ve added all of your channels, you can check out available campaigns.