The goal of Landing Page Optimization (LPO) is to provide page content that makes the website more appealing to the target audiences. In the end you want the visitors to become customers buying products from you website. Therefore, it's important to optimize your Page accordingly in order for the Conversion Rate between visitors to buyer increases. In affiliate marketing we have seen eCPM, eCPC and general revenue increase with double-digit percentages after improving the landing page. Both Advertisers and Publishers therefore can benefit from better performance of a campaign after Landing Page Optimization.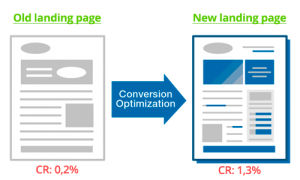 It's important that your Landing page is modified based on the Demographics of your audience though analyzing which kind of visitors you have; everything from purchase behavior to browsing patterns. If you think about the variety of landing pages that people are exposed to it's essential that yours stand out from the crowd and remove distractions which may lead to the visitor leaving your page. Don't bore the customer, go straight to the bone. Show them the product/service that you are providing. Your primary message should always be above the fold.
Through A/B testing you can analyze multiple versions of your landing page and conclude which one your potential customers show more acceptance to. It's usually measured through Click through rate or conversion. Testing can be done sequentially or in parallel. If you choose to do it sequentially you would close of different time periods where you run the various landing pages. On other hand, if you choose to do it in parallel, you would make both versions available at the same time splitting the traffic in two.
If you, through analyzing your customer base, conclude that you have multiple user types, it would be recommended to create a landing page for each segment and drive traffic via separate sources. Some visitors only use their computer when accessing your landing page while others consistently enters it through his/her Smartphone/Tablet. Each segment has different necessities. Decisive to identify these needs in order to optimize your landing page and traffic source accordingly.
As mentioned initially, the ultimate goal for advertisers is to convert visitors to buyers. Therefore, the call to action (CTA) needs to be clear. The visitor needs to know what to do when entering the landing page. Give a clear and consistent message. Don't promising one thing and then deliver something else. This will only confuse the customer. It's recommended that you give your CTA room to breathe. Allow it to stand out on the page. Take away the "noise" around it and keep it where it can be seen. The eyes of the customer should immediately be drawn to the action area.
This is a continuous process where it's necessary to use a lot of reporting, metrics and analytics. Your customer base might change through time and so should your landing page as a consequence of this. Apart from gathering data regarding the user behavior and demographics, it's important to get feedback from the actual customers as well to get a better understanding of their perception. This information could be valuable for you when launching your next campaign quoting your customers. This will give potential customers a reason to trust you based on the experience from others.