If you're thinking about stepping into the game of email marketing, you will need to learn how to grow and manage your list of subscribers. Email Marketing can bring you one of the highest ROI's across online marketing channels if you stick to best case practices. So what are the right steps for building and managing a database of prospects and existing customers?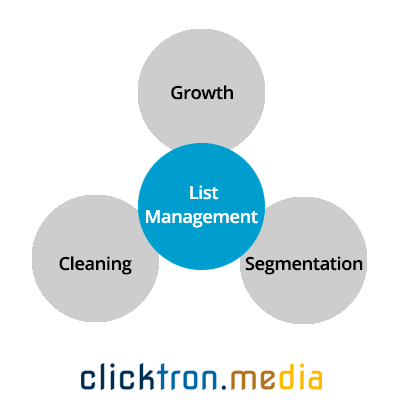 If you want to reach engaged followers of your business, you need to focus on organic growth of your email list. Place a prominent opt-in form to your site or create a pop-up that is impossible to miss. Make clear the value proposition that you're offering. The metrics that you want to follow in this phase are the conversion and the abandonment rates. How many unique visitors of your site converted in opt-ins? How many potential subscribers abandoned the opt-in process?
So you've managed to grow a list of subscribers and you've started sending email campaigns to them? That seems like a high time to start with proper list maintenance and cleaning. Any hard bounce and unsubscribes should be handled promptly (in best case automatically). Keep a close eye on these two metrics, as they will signal the quality of your list.
It's no secret that the key to long-term successful email marketing is relevancy. Relevant content will result in engaged subscribers. If you grow your email list organically, you have the advantage of having a lot of usable information right at your fingerprints. Use the site behavior of your subscribers and identify in what stage of the sales funnel are they in order to create targeted, triggered campaigns. Are you missing this valuable information? Then you can target your list using the demographical information collected during the subscription process. Not having these details either? Then focus on creating segments based on opens and clicks from your past campaigns.
So you already know what steps you need to take in order to manage successfully your list of subscribers. Measure constantly your performance in order to know if you're on a good way to succeeding in this ever-changing, fast-developing industry. As already pointed out, you want to make sure that you have easy access to your web analytics in order to see the conversion and the abandonment rates. Also, you want to make sure that your ESP is able to provide you instant statistics about the bounce, unsubscribe, open and click rates. When using these details correctly, your subscribers will definitively reward your efforts!